Marco Fuso to join Jestic at EPPS with live cooking masterclass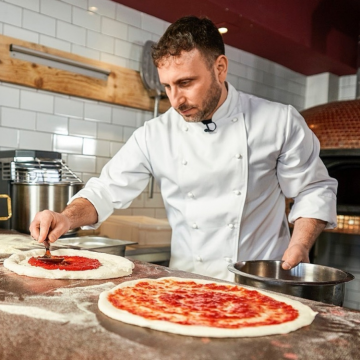 Jestic Foodservice Solutions is showcasing the latest equipment from renowned manufacturers including Henny Penny on stand Q52 at the Restaurant & Takeaway Innovation Expo 2021.

As the largest UK supplier of fast food equipment, Jestic represents some of the world`s finest and most innovative fast food equipment, providing expert knowledge and comprehensive support to operators within various fast food sectors.

As the industry emerges from the Coronavirus lockdowns, Jestic is delighted to once again be returning to the Restaurant & Takeaway Innovation Expo – the foremost European exhibition for takeaway and fast food chains, dealers, operators, franchise owners and suppliers. Visitors to the Jestic stand Q52 will see the latest equipment from renowned foodservice equipment manufacturers Henny Penny. On display will be the Evolution Elite, Henny Penny`s leading open fryer, which uses 40% less oil than regular fryers without sacrificing on quality or efficiency. The Evolution Elite also boasts smart filtration and automatic oil top-up to ensure easy operation and maximum performance.
Another highlight on the Jestic stand will be the new Henny Penny GVE – a simplified, easy to use low oil volume open fryer which provides excellent value for money and significantly reduced oil consumption. In fact the GVE can cook the same size load in 27% less oil than a traditional 25 litre vat. The GVE also offers 40 cooking programs including idle and melt modes to reduce energy consumption and extend oil life – whilst hinged elements make cleaning a vat quick and easy.

Jestic will also be showcasing Henny Penny`s revolutionary Velocity pressure fryer range. A completely new pressure fryer, built from the ground up and expertly designed to provide significant cost savings and performance increases for high volume frying, the Velocity fryer contains 25% less oil than its predecessor and with regular filtration and automatic oil top-up it can dramatically extend oil life.

For those visitors looking for alternative cooking solutions for their business, the Jestic stand will also demonstrate the very latest in conveyor oven technology. A style of cooking adopted by many takeaway and fast food operators, conveyor ovens enables faster cook times, exceptional consistency and a design to make the most of the kitchen environment.

Members of the Jestic team will be on hand to demonstrate the equipment, answer any questions about the ranges on offer or provide their expertise on an array of topics, from the best practices for setting up an outlet to ensuring the continued life and performance of your equipment.